I'm super excited to show you the Ready-to-go sewing pattern available right now in my pattern shop. It has two versions; wristlet and crossbody, they are the same size but you can wear them differently, that is the crossbody across your shoulder and the wristlet on your wrist. There are also two methods of boxing the bottom corners; the sewing method and the rivet method, both of these are based on your choice and gives the same results.
Great news! there is a contest going on for 3 weeks from today, all you need to do to enter the contest is to make a Ready-to-go purse either the crossbody or wristlet or both, and post it to our Facebook community; Tobistylx Sewing Patterns then you stand the chance to be the winner of this contest! Are you ready?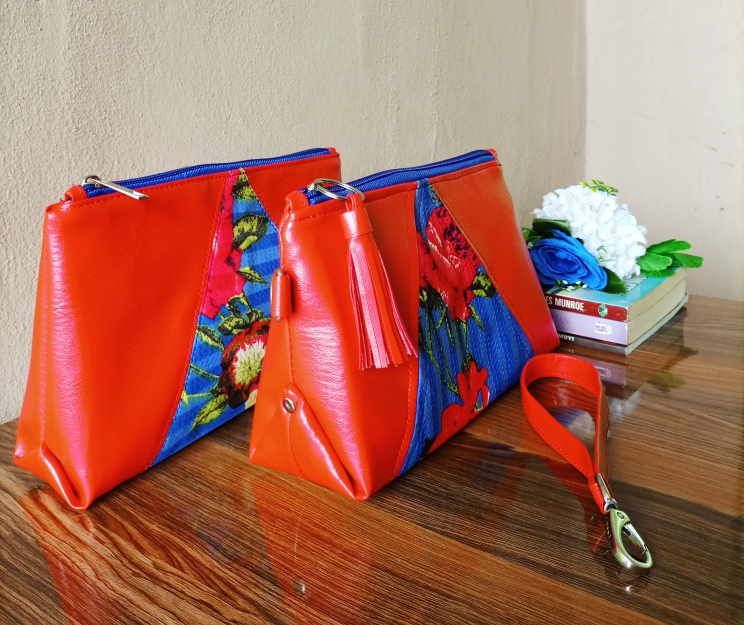 The Ready-to-go purse features one inner slip pocket, an interior zipper pocket, and the main compartment with main zipper closure, it's very functional as it's of great size, handy, and has room enough to accommodate your phone, wallet, keys, and even some makeups. It has two versions; crossbody and wristlet version.
The crossbody version has a long adjustable and detachable strap, while the wristlet version has a functional wristlet strap, the beautiful thing is that you can make just one and let it serve the purpose of both the crossbody and the wristlet for you, isn't that wonderful? It's beginner-friendly and the pattern is written to accommodate a wide range of skill levels. It's a perfect cute purse.
Pattern includes 21 pages of easy-to-understand sewing instructions completed with a step-by-step colour photo to further make the instructions explanatory and very easy to follow and a video tutorial by Studio 7T7, (click here to watch the tutorial). The pattern also includes printable pattern pieces.
Finished Size: 9″ W x 6″ H x 3″ D (23cm W x 15cm H x 8cm D)
Necessary Skill: Basic sewing skill, you should be familiar with sewing patterns or sewing terms.
Materials
Exterior fabric for the front middle panel – 1/4 yard
Contrasting fabric – 1/2 yard
Quilting cotton for lining – 1/2 yard
Pellon SF101 or Wovenfuse for interfacing – 1/2 yard
Pellon Decovil light 525 to Interface Vinyl (optional)
#3 All-purpose zipper for interior zipper pocket – 8.5″ (22cm)
#5 Continious zipper tape or an exterior zipper for main zipper – 8.5″ (22cm)
1/4″ (0.6cm) Double-sided-tape
Hardware
3/4″ (2cm) D-ring – 1 (2 only for crossbody version)
3/4″ (2cm) strap slider- 1 (only crossbody version)
3/4″ (2cm) swivel hook – 1 (2 only for crossbody version)
3/8″ (1cm) rivet – 3
Tassel pulls or zipper pull rings- 1
3/8″ (1cm) Chicago screw (optional; you can use in place of rivet) – 2
Skill Level: Confident Beginner
Thank you to all the pattern testers for their hard work in making sure this sewing pattern is suitable for you and the instructions understandable to a wide range of sewing skills. I'm excited to show you all the tester's Ready-to-go purse. I hope you enjoy viewing them.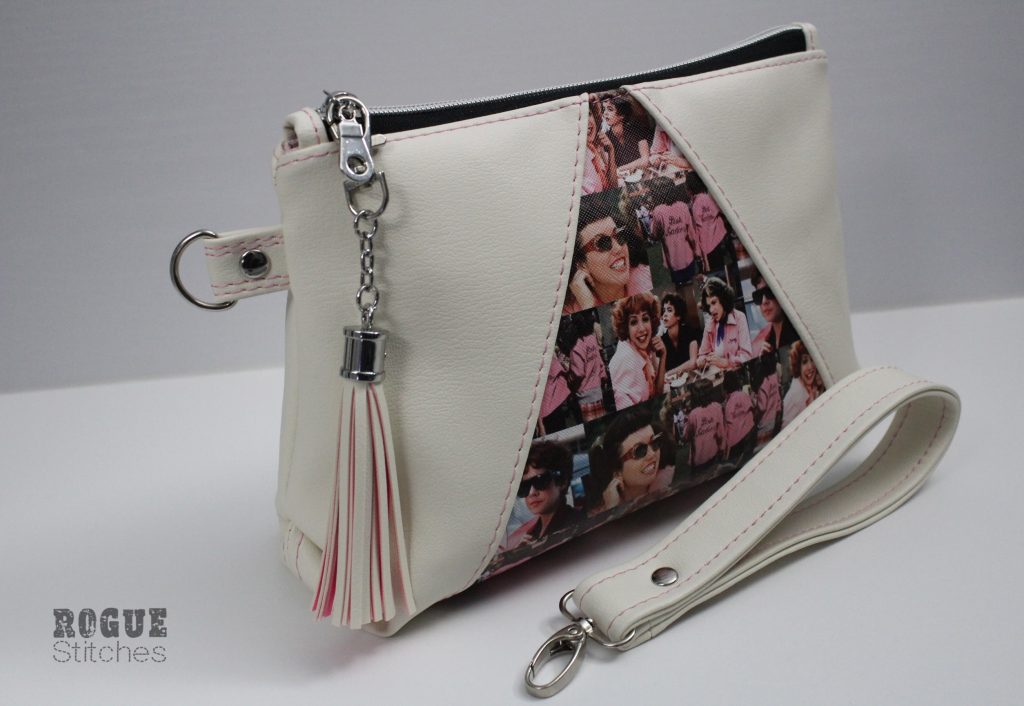 Christy of Roguestitches.com made her bag with Marine vinyl and a printed faux leather on the exterior and the lining with waterproof canvas. I love her short note about the pattern "this is a sweet little bag that goes together quickly and easily"
Fabulous work, Christy!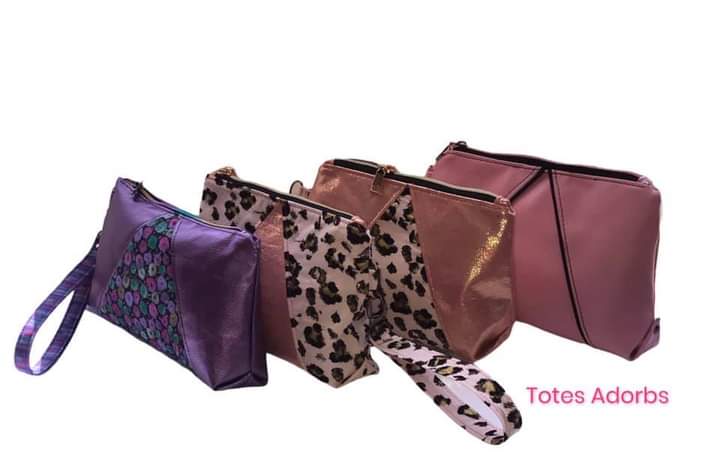 Laura of Totes Adorbs made these bags with vinyl and quilting cotton. She made a fascinating note about the pattern, I'm sure you will love it "The possibilities are endless with the Ready-to-go…just have fun with it!"
Awesome job Laura!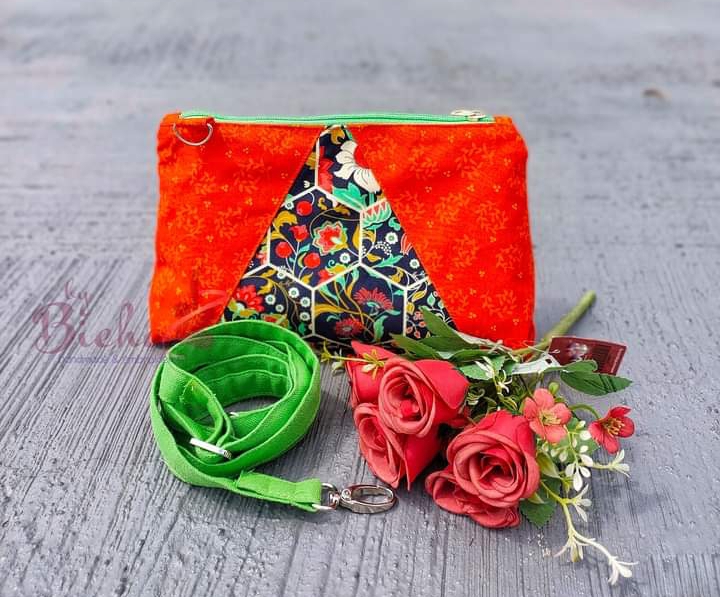 Rose of Bybieha made her Ready-to-go purse in all quilting cotton, she's Rose and that picture is all rosy (winks) are you connecting the two?
Beautiful job Rose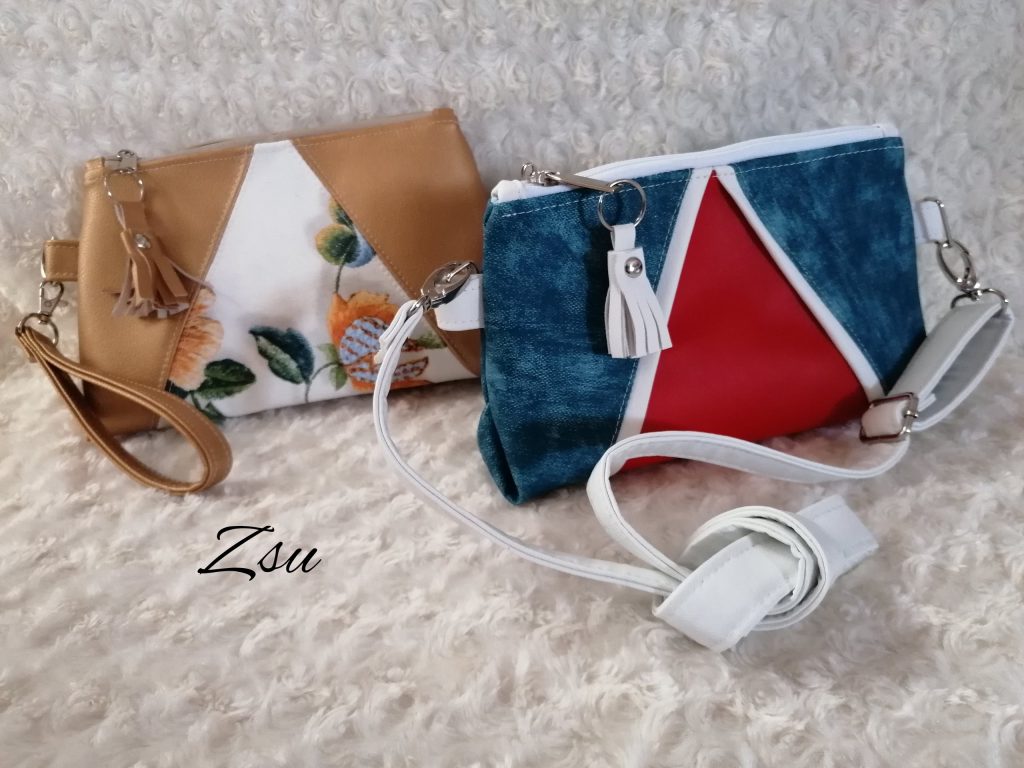 Zsuzsa made these purses with vinyl, quilting cotton, and jean. Her note about ready-to-go, "The perfect accessory for any occasion!"
Great job Zsuzsa!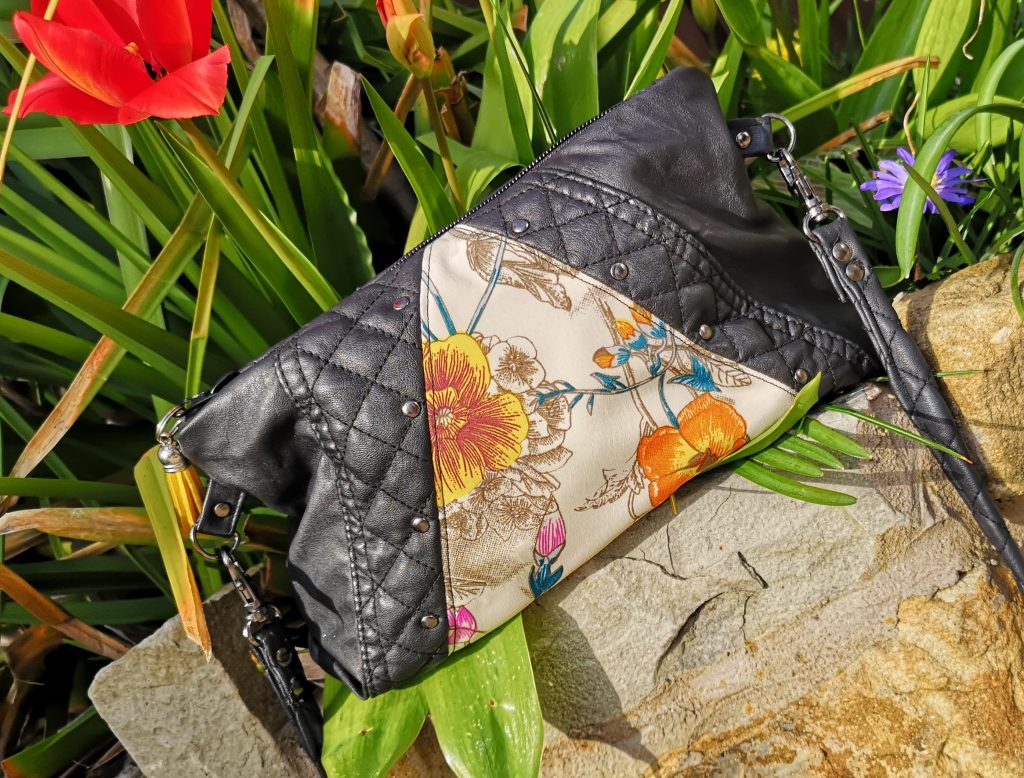 Michelle of Silkyfoxshop made her bag by upcycling an old faux leather jacket and combined it with fabric. Her note about the pattern; "It's a quick sew that gives stunning results! whether made as a crossbody or wristlet, it's sure to grab attention!"
Looks really pro! Great job Michelle.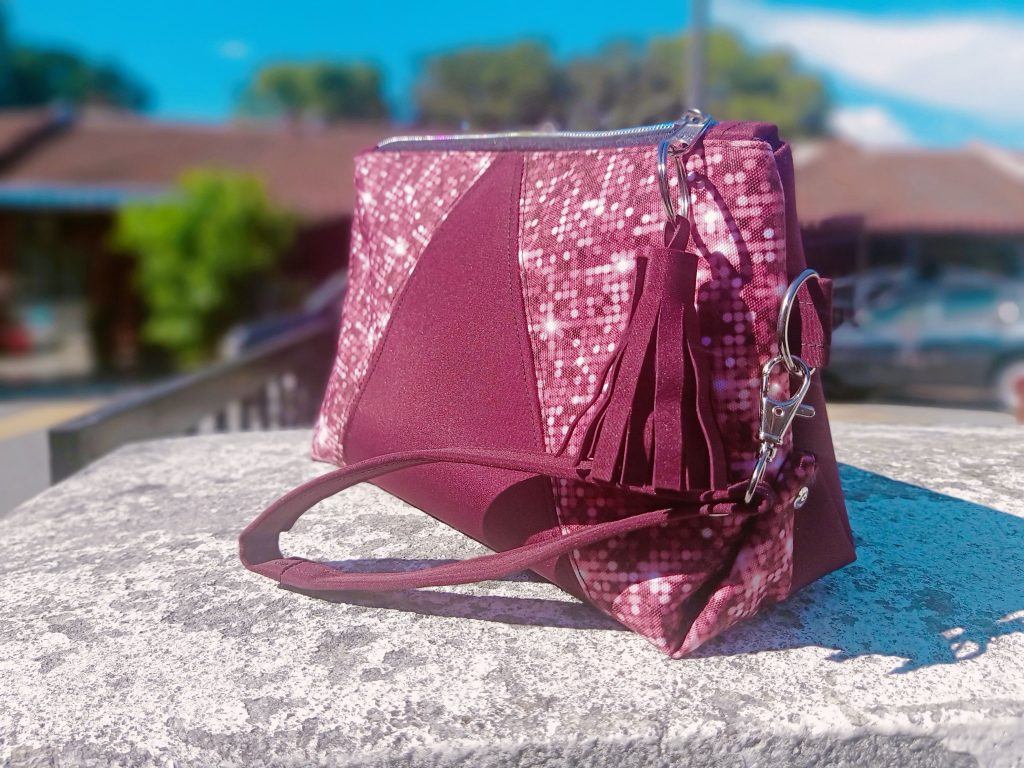 Izzaty made her Ready-to-go purse with waterproof canvas. Her note about the bag and pattern; "I love the ready-to-go pattern. It's so roomy and there is no difficulties assembling the pattern"
Great Job Izzaty
Kerry made the wristlet with an embroidered Indian cotton and faux leather exterior and flora lining which we all can't see right now. lol. The crossbody is made with a waterproof hummingbird polyester panel and faux leather exterior and a quilting weight cotton lining. Her note about the pattern; "A quick to make, beginner-friendly pattern with an unusual outer boxed corner feature. comes together nicely and easy to follow instructions."
Fabulous job Kerry!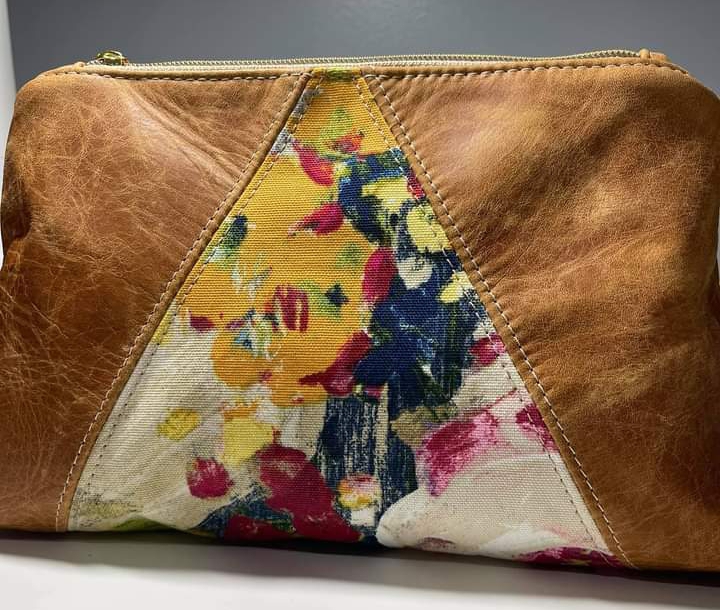 Cre made this bag in distressed leather and waterproof canvas for the center panel. Her note about the pattern; 'This is a really quick sew, I love this pattern!"
Amazing work Cre!
Wanda made the orange purse with faux leather and beautiful sunflower quilting cotton and the black purse with waterproof canvas and cotton fabric. Her note about the pattern; "This is a beginner-friendly bag, you will love how quick and easy it comes together. Tobi has made it a great size for it to be regular clutch/wristlet or a crossbody bag. The possiblities are endless. Grab a copy and join the fun. You will love making this cute little bag!"
Gorgeous work Wanda!
Angela made her two Ready-to-go purse with vinyl and quilting cotton.
Great job Angela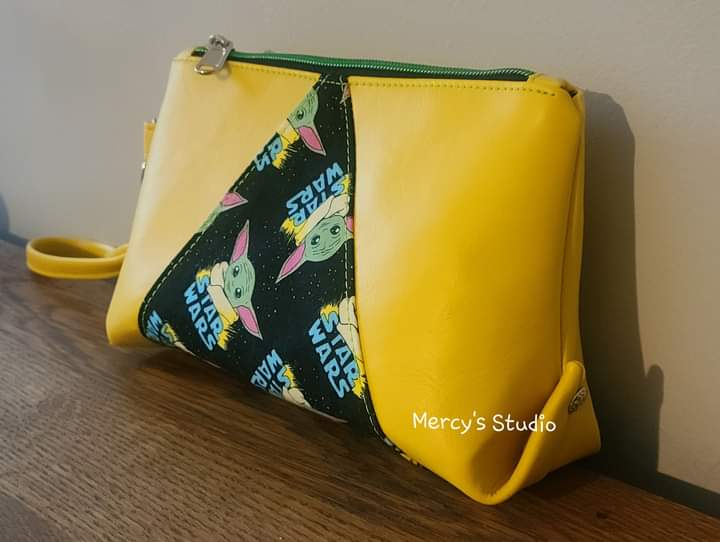 Marianne made her bag with vinyl and quilting weight cotton.
Great work Marianne!
I really hope you'll enjoy making this pattern as much as we did, the Ready-to-go pattern is available for purchase in the pattern shop, go grab yours now and join the fun. Share your finished bag with me on our Facebook Community, Tobistylx Sewing Patterns, and also stand a chance to be the lucky winner in the ongoing sewing contest about the Ready-to-go purse.